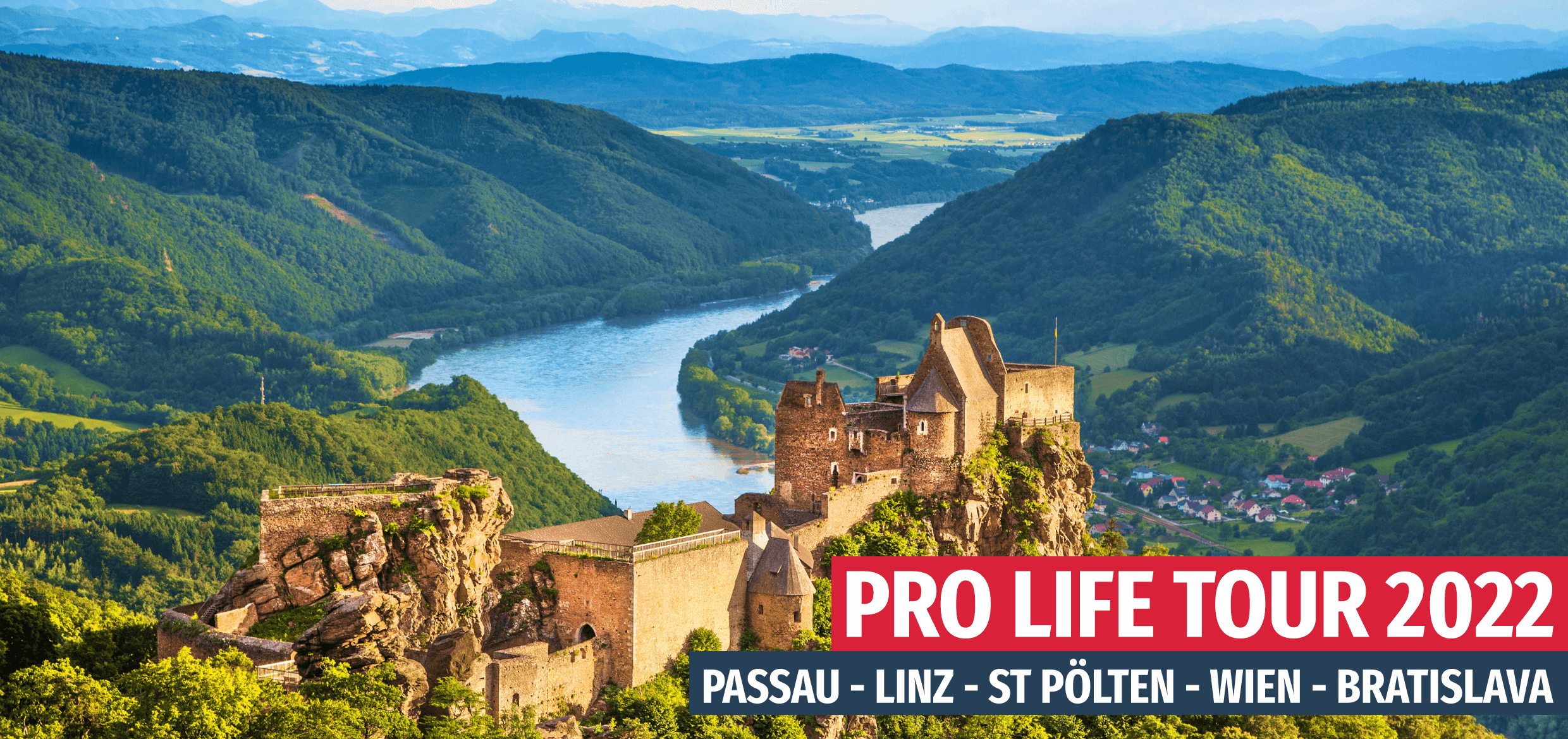 How far would you go to save a life?
Why you should join:
The days between July 22nd and August 14th 2022 will be the best and most adventurous days of your summer and – additionally – the most meaningful.
For three weeks more than a hundred young people will walk 350 kilometers through Austria, to make one shared vision become reality:
A society, in which children are being protected, women are being supported and abortion has become obsolete.
We are convinced that every woman deserves better than an abortion. We believe that it is possible to bring mothers the kind of support they need, and that it is possible to protect preborn children. This is the conviction of all Pro Life Tour participants
To draw attention to this issue, we walk – on foot – through Austria. From Passau via Linz, St. Pölten and Vienna to Bratislava. Our society must know that abortion is no solution. We want to make abortion a part of history. We want for nobody in our society to have to think about abortion anymore.
We want abortion to become history.
Sign up now!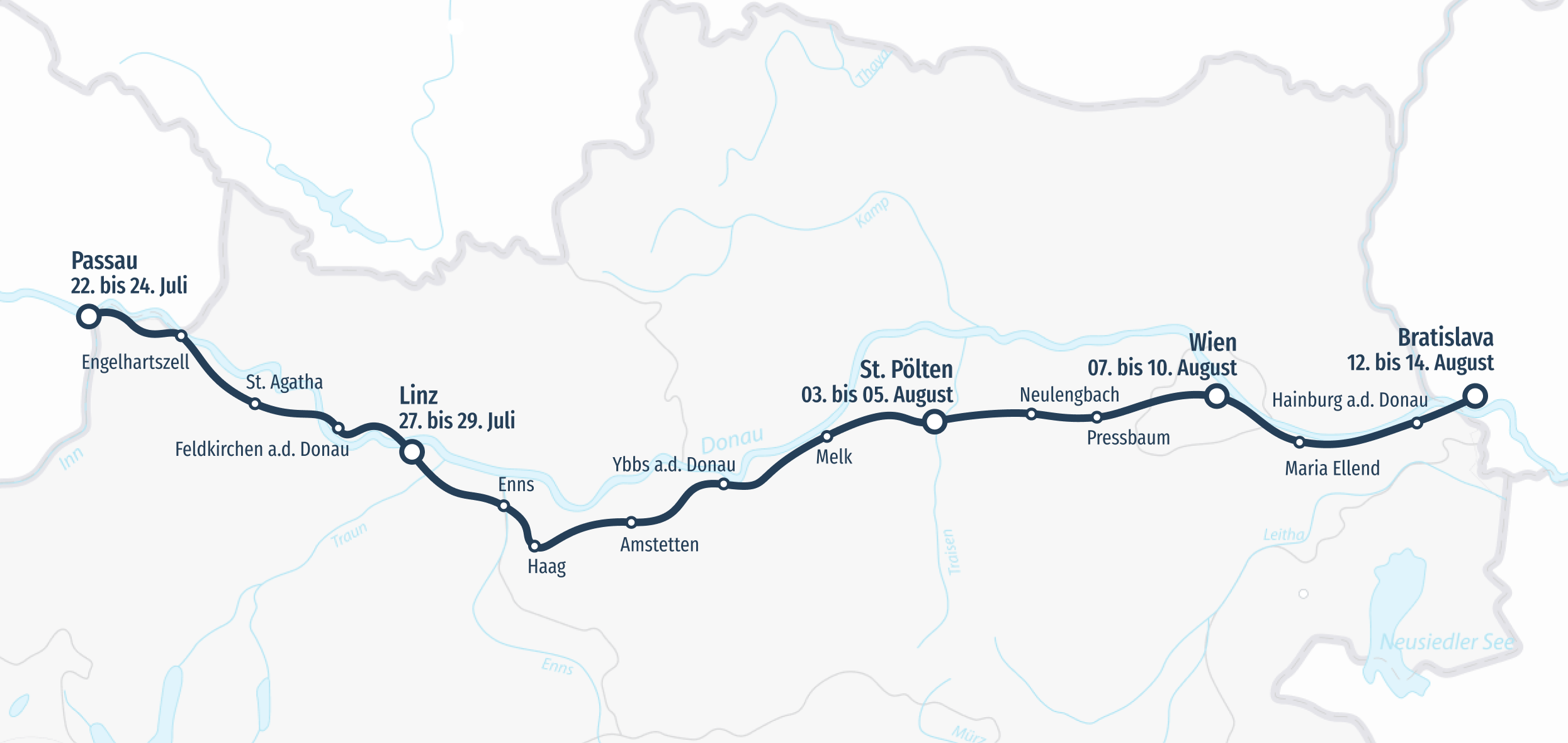 FAQ
Hello everyone 🙂
following, you will find a short FAQ, which is (hopefully correctly) translated for the non-german speakers of you. If you have additional questions, you can always ask Gabi via mail gabriela.huber@jugendfuerdasleben.at or by phone +43 664 3420804. She is almost always available and definitly always happy to answer any and all of your questions.
Do i have to join for the whole 3 weeks of the pro life tour?
The answer to that is of course no. You can walk with us for a day or two, a week, the whole time or any random number of days you wish. We will leave that decision to you.
Where will you be on each day?
We will arrive at the accomodation late afternoon or in the evening and leave pretty early most days. Following is a short overview of the stops with their corresponding dates:
FR 22.07. – SU 24.07. PASSAU
SU 24.07. – MO 25.07. ENGELHARTSZELL
MO 25.07. – TU 26.07. ST AGATHA
TU 26.07. – WE 27.07. FELDKIRCHEN AD DONAU
WE 27.07. – FR 29.07. LINZ
FR 29.07. – SA 30.07. ENNS
SA 30.07. – SO 31.07. HAAG
SO 31.07. – MO 01.08. AMSTETTEN
MO 01.08. – TU 02.08. YBBS AD DONAU
TU 02.08. – WE 03.08. MELK
WE 03.08. – FR 05.08. ST PÖLTEN
FR 05.08. – SA 06.08. NEULENGBACH
SA 06.08. – SO 07.08. PRESSBAUM
SO 07.08. – WE 10.08. VIENNA
WE 10.08. – TH 11.08. MARIA ELLEND
TH 11.08. – FR 12.08. HAINBURG AD DONAU
FR 12.08. – SU 14.08. BRATISLAVA
How can i join?
2 weeks prior to the tour, you will be sent an email with details, like the address of the accomodation at which we will be at, when you arrive. You can either come directly to the address, or you can go by public transport to the closest trainstation and we will pick you up from there. Just call us
+43 664 3420804 the day before and tell us when and where you are to be picked up.
What about my baggage during the walk? and… food?
Naturally we will provide for both. You just have to take with you, what you need during the day. Which is normally a waterbottle, sun lotion and a raincoat or cap (depending on the weatherforecast – of which you will be made aware of each morning).
What does a typical day look like?
The day will start between 5 and 8 am, depending on the length of the route for the day or which activities we have planned. You will be woken with "wonderful" (Gabis words..) morning music (is there even such a thing?). There will be a balanced breakfast to start your day off right, and then you'll be on your way. While on route, you will give out flyers and talk to people you pass about the infinite value of life. But no worries, it's mostly a lot of water fights and fun along the way.
Around noon, you take a break and the "food truck" will join you on the way for a quick lunch, after which we walk the last few kilometers to the next accomodation. This year we'll walk 20 kilometers a day on average – so it's perfectly doable for anyone, even for someone without any sporty ambitions.
We will have a daily holy mass and a short catechesis held by our accompanying priest. You'll also have the possibility for confession throughout all days. The catholic program is of course voluntairy.
After arriving at our quaters and after dinner, there is often a short lecture, a movie night, or a pro-life argumentation training session.
To bring the day to an end, we will usually sit together with a glas of wine or some beer. For the kids that are under 16 years old, we have a curfew starting at 9 pm. Everyone else can, at their own responsibility, stay up as late as they want.
How much does the PLT cost?
The Pro Life Tour is free of charge.
But to cover the cost of meals, we ask for a voluntary donation, which is best paid directly to our lovely kitchen team. The usual costs per person are about 10€ per day, or 50€ per week.
what do i need to pack?
2 weeks prior to the tour, you will receive an email with a more detailed list of what to bring. But according to our experience you'll need:
Sleeping mat
Sleeping bag
Sport shoes or sport sandals (your feet will thank you)
Swimwear
Headgear (Cap or hat)
Waterbottle
Can i decide to join spontaneously?
Of course.
I mean.. we would prefer it, if you signed up on time, but we usually have enough space and food for any and all spontaneous hiking enthusiasts. Best call Gabi +43 664 3420804, and she will help you clear up all details.
Is there an age restriction?
From the age of 10 to the age of 16 you can join without a parent but you will need an adult accompanying you. For all participants under the age of 18, we will need a letter of consent from the parents. (This is the german version – if you need a translation to english, please contact Gabi. I think you have her number by now.)
what if i don't know anyone there?
No need to worry about that. Just come by and you'll see rather quickly that we don't bite 😉